It's an idea, someday
in my tears, my dreams
don't you want to see her proof?
Life that comes of no harm
you and I, you and I and dominoes, the day goes by...
It's been awhile eh?
I haven't been backpacking in over two years and I haven't camped out in a long time either, so I, like three others, was itching to capture some outdoor goodness up north. The weekend worked out, the moon was full, the fall colors were beginning to change, and the weather seemed to be just right for a backpacking trip.
Cast of characters
Lisa

: I went to school with her at the College of Natural Resources at the U of M. She hadn't ever backpacked before and was up for the challenge.
H

: You may know from numerous comments from random posts. I used to live with H at the hizzy in Minneapolis for two years. This was also his first backpacking trip.
Teal

: I know from the university YMCA's Environmental BackPacking club (EBP). Teal was leading the first trip I ever went on with this club and is an experienced outdoorsman.
Setting

: The Superior Hiking Trail which runs from Two Harbors, MN to just south of the Canadian border is about 200 miles of trial that follows Lake Superiors rocky shore. The trail is also regarded as one of the best hiking trails in the country and now I know why.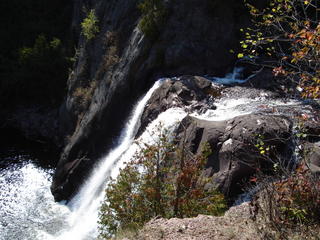 When we arrived to the SHT trail head we hiked into Tettegouche State Park to catch some waterfalls. This is a picture of High Falls which is the highest (?) falls in the state of Minnesota.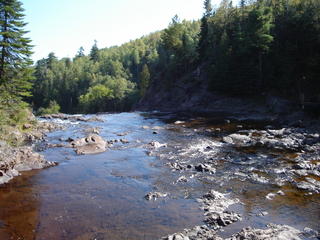 Top of High Falls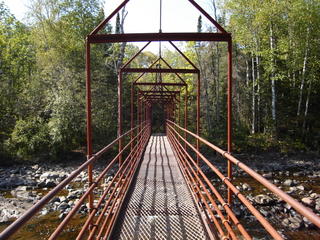 This was the cable bridge over High Falls. It's a very bouncy bridge and I'm sure a lot of cameras have been dropped as a result.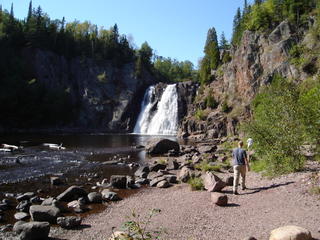 H then stared at High Falls and noticed the cool looking rocks on the right side of the water. At that moment he had the uncontrollable urge to participate in some rock climbing. This is H approaching those rocks. Don't do it H!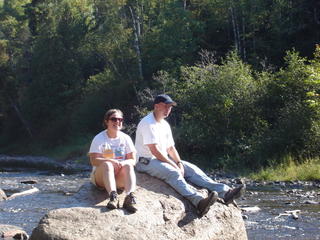 Lisa and myself just sat on a rock and watched the falls and H frollicking around the rocks. I believe I said to Lisa, "huhuhuh, watch H fall into the water. huhuhuh" Then I told a short story about a friends picture. We both were very focused on either my story or the majestic falls that we...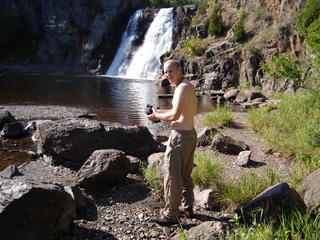 ...missed H falling into the water. It was only until we saw him pounding his dripping fist into the rock when we noticed he fell in. I would've totally had a great picture if my camera was around. For the record we arrived less than one hour and someone already got soaking wet, on a sunny day no less.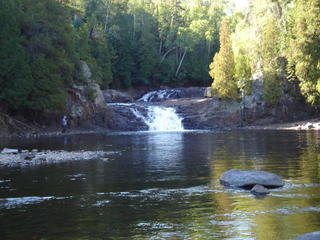 Then we stopped at Two Step Falls just down stream. Again, beautimus.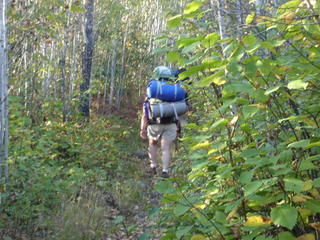 We started our trek without Teal who was stuck at a business meeting that went into overtime. That and the typical cabin traffic that happens ever Friday afternoon. Therefore Lisa, H, and myself started hiking into camp. We only had 2.3 miles into our first campsite. Little did we know that 2.3 miles can take some time when it's uphill!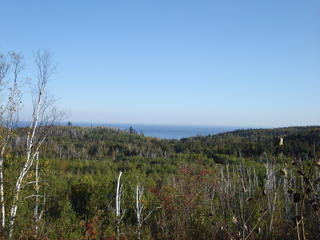 During the hike we did have some excellent views of Lake Superior. What was strange was that there was barely any wind and the lake was extremely calm.
This is Johnson Lake. Look how still this lake it! Sorry for the goofy angle.
The moon rising over Lake Superior. Hello new desktop wallpaper.
So we continued on this bitch of a trail. We finally arrived at camp at dusk where we had some foil dinners on a fire fueled by wet wood. The moon shone brightly overhead and we were starting to wonder if Teal was going to make it or not. Finally at around 9:30pm we heard some rustling and seen a headlamp and teal made the 2.3 mile trek in the moonlight. He said he probably scared off some deer and a bear in the process.
We slept under the bright moon and began a nine mile trek on Saturday morning. The trail started off pretty straight and decent. Then the uphill and downhill shit came into effect.
As a result of such uphill hiking, we get to see views like this on top of the "Sawmill Dome". I never thought there would be such a view in "flatlanders country".
pretty colors
This is a blurry view of this fat ass porcupine that quickly scampered up the tree once we approached.
and we continued on...
and on....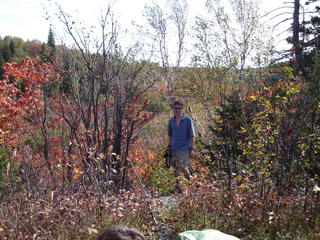 This hike was really getting tiring and slow due to all the sudden uphill/downhill shit. Imagine carrying a 50lbs. pack and trying to climb up or down these steep stone stairs with slanted stones, missing stones, and huge amounts of erosion. It's ankle breaking shit!
Very pretty stuff though.
Then I stepped in a ton of mud filling water bottles. DOH!
The exciting twist to the story tomorrow!